Here are some basic tips for getting great shots at equine events.
Know Your Events
No matter what type of equine event photography you choose, it's important to know your events. Each event has its own rules and skills, and understanding those rules is an important part of mastering your photography.
As you understand what happens in each event, you'll learn the best location to shoot from, what to look for and when to fire the shutter.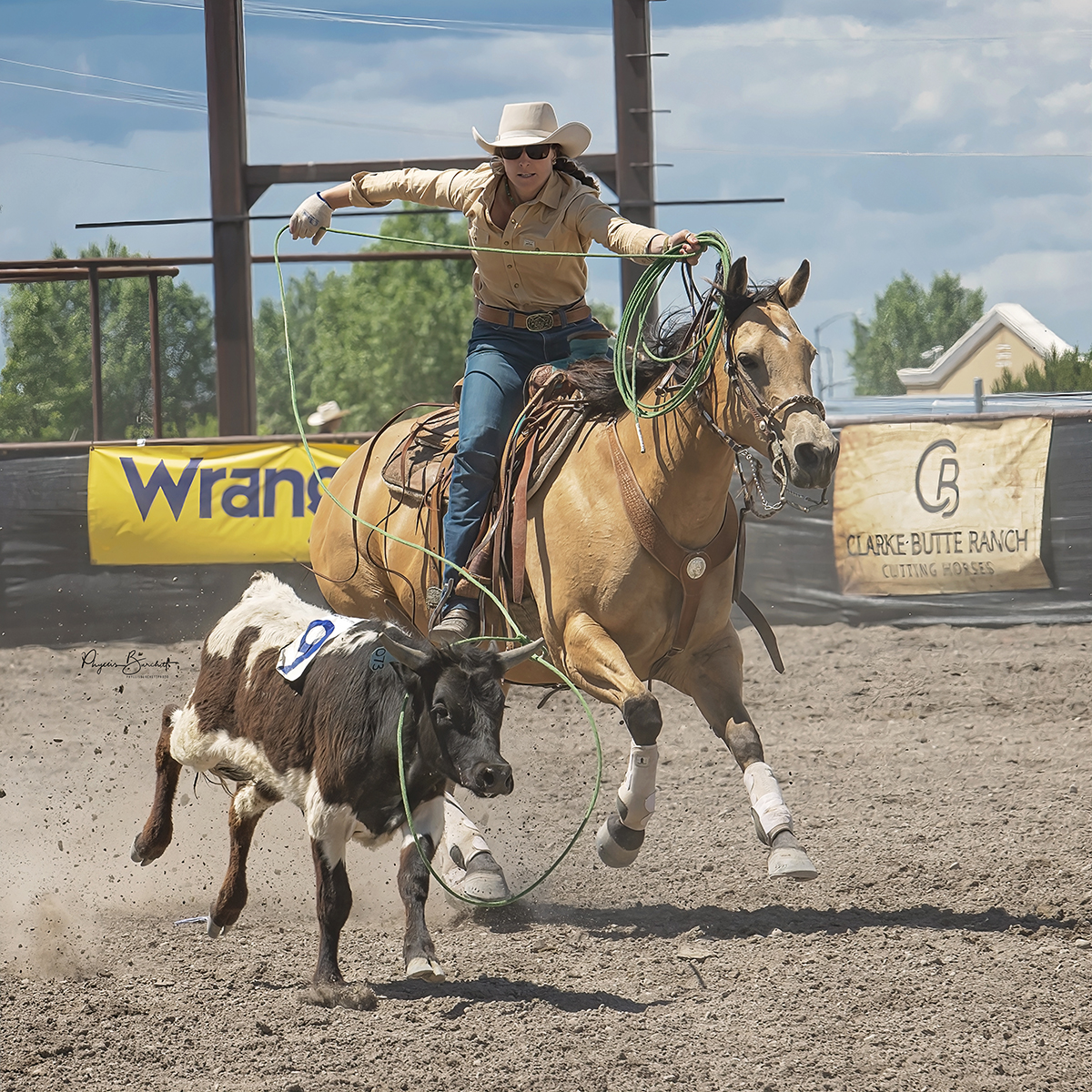 Know the Rules
Always follow the rules you're given. DO think about where you're standing and be aware of your surroundings. It's too easy to get so involved in the action and not see a wreck coming toward you.
Dress the part, some organizations will have rules about what to wear in the arena or other areas. This usually includes jeans, a long-sleeve shirt, boots and a cowboy hat, looking professional is a must.
Use the Right Gear
For the best images, you'll want a fast camera and fast lens. You'll want high shutter speeds and a camera that has a high frame-per-second rate will work the best.
Invest in high-quality, fast memory cards. You will be shooting a lot!
To capture action inside an arena, you'll want a telephoto lens. The bigger the arena, the bigger the lens you'll want, especially if you like close-up shots. While some pro photographers may use a 400 mm or even longer lenses, the 70-200 f/2.8 lens is perfect for action, it's fast and great in low light. If you need extra reach, you can add a teleconverter. This will limit your aperture but will give you more reach with the same lens.
Keep a wide-angle lens on you for capturing behind-the-scenes images or when the action comes super close!
Make do with what you have or rent a lens to see if event photography is going to be something you'd like to continue.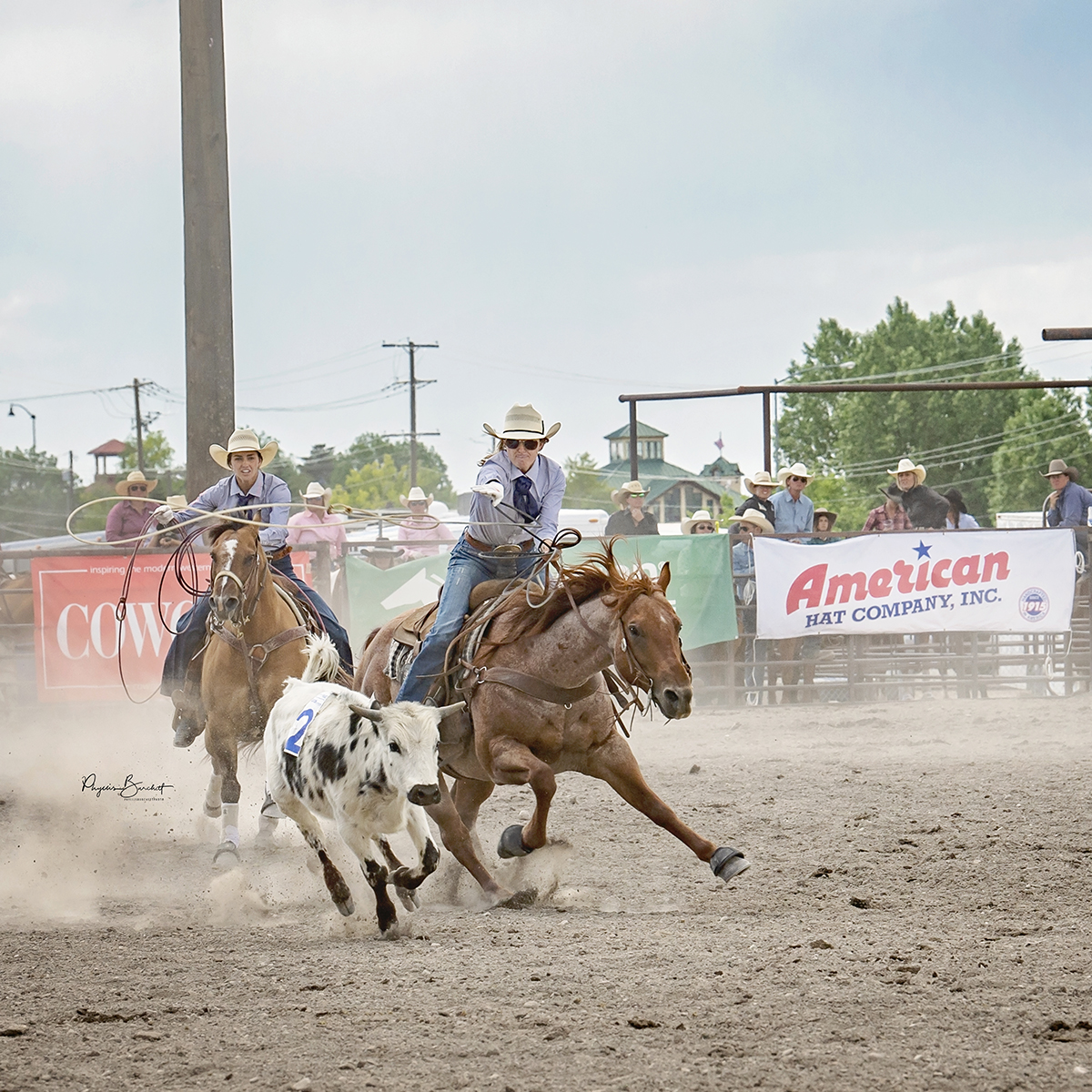 Because of the dust at these events, you may want to consider using a UV filter. It will keep the front lens element of your lens safe. Keep lens wipes in your bag too.
If it's super dusty you might want to have some canned air handy too.
A tripod or monopod can be helpful if you're shooting a long event or have heavy gear. I don't use one but the monopod will be easier to maneuver and won't get in the way like a tripod in crowded areas.
For Ranch Rodeo, shutter speed will be your most important setting. I like to use a shutter speed of at least 1/1000 of a second at F4 or 5 while keeping the ISO low if you've got plenty of light.
Just be sure to watch your settings and raise your ISO as needed if the light is changing. If it's an indoor arena you may need to lower your aperture to F2.8.
Keep in mind, most of the time, the best action photos will show the riders face and include the whole animal.
Professional event photographers do use flash photography. If you're interested in using strobes at an arena, check the rules first. You'll need high-powered strobes with triggers and the knowledge to use them safely.
I highly suggest working as an assistant for a photographer who knows how to light an arena to make sure you do it correctly and safely.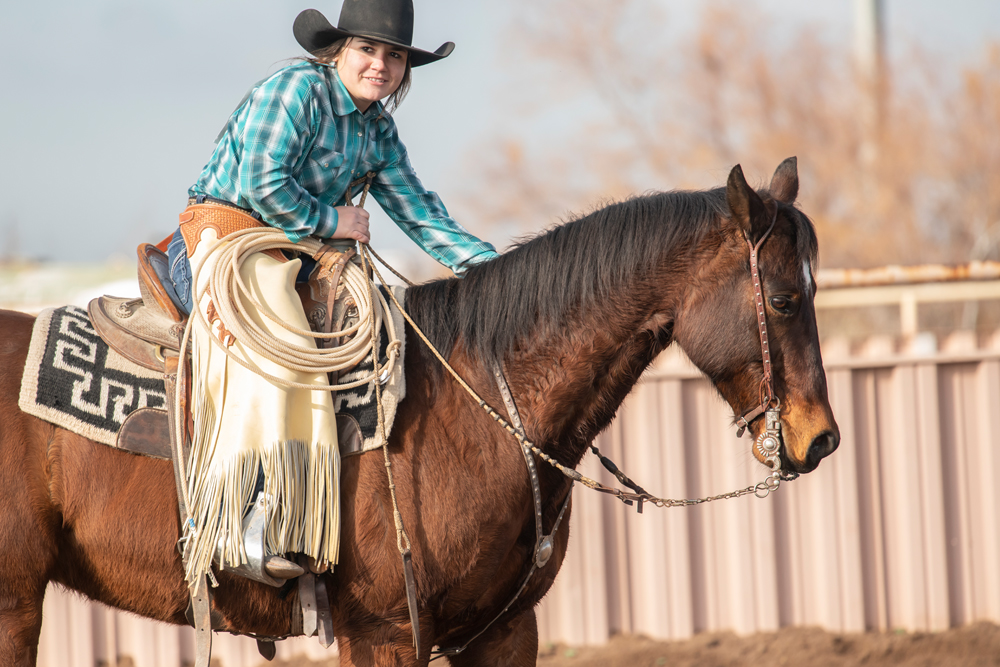 For timed events, (such as Breakaway Roping) focus on the action and position yourself where you can see the action coming at you or past you.
This usually means the opposite end of the arena from the roping chutes or the side of the arena. The more experienced you get the better your timing will be to get the best shots.
For roping shots, shoot when the action is coming toward you and the rider is swinging his loop. I also like shots taken from the side where you can see the rope snaking out toward the animal or when the rope has landed over the steer's neck.
Team-roping is tougher to shoot, the best shot is where the header catches and the heeler is swinging his loop. After the run is finished when the steer is stretched out is a really cool shot, you'll definitely need a wide-angle for this one.
Don't stop shooting when the ride is over, wait for that moment of celebration for a great ride or frustration over a not-so-great one.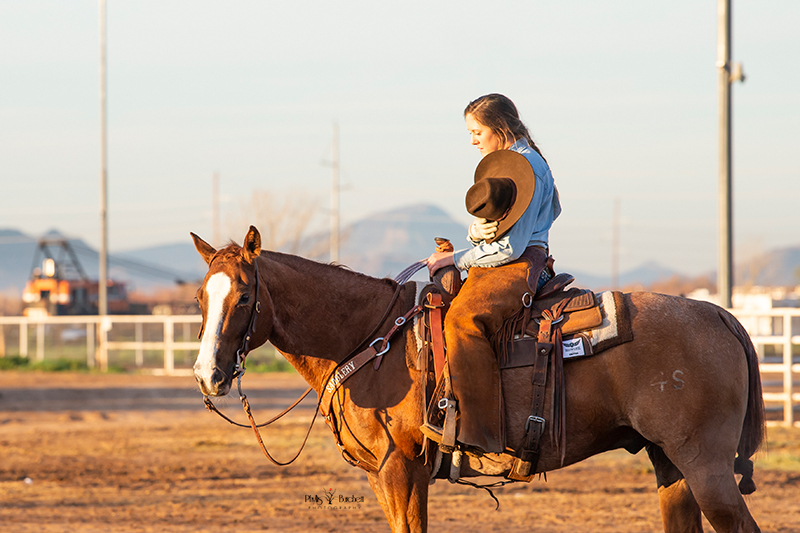 Some of my favorite shots happen behind the scenes.  Look for a composition that will show the name of the arena, sponsors, judges, fans or contestants helping one another.
Think about telling a story with your images.
You never know when the perfect shot will present itself, and remember when animals are involved there may be a short window of time to get the shot.
Get Out There
If you're ready to head out to an event near you do your research. Some competitions will have an Official Photographer (OP) who has paid to be a vendor or was hired to cover the show.
They don't always take it well when a different photographer shows up and starts photographing everyone and/or tries to sell those photos. It's always best not to step on the toes of the OP. Just be respectful.
If you're ready to get to an event and put these tips to work, join me and Kimberly Beer for our upcoming clinic at Art of the Cowgirl! Learn more here.
If you're on the fence about signing up for the Photography Clinic at AOTC in January be sure to read this review from a past participant:
When I first learned about the photography workshop at Art of the Cowgirl, it felt a bit like an out-of-reach dream. I had started to turn my photography hobby into a business three years prior, and the workshop would be a pretty big investment. I kept checking into the website to see how many spots were left…first ten, then eight, down to six, and eventually down to two spots. After reviewing Kim and Phyllis's work for the umpteenth time, I decided I needed to commit. I won't ever regret that decision. My experience at Kim and Phyllis's workshop was more than I could have expected or imagined. Both ladies teach from their hearts and freely share their passion for their art. Instead of seeing my photography as work, as I had started to look at it, I was able to reignite my passion for creating art. The flexible structure of the workshop made the experience both personal and customizable for me. When shooting events, Kim and Phyllis welcomed and encouraged questions about all aspects of photography, from setting up shots to post-processing to business. The workshop also helped me to build relationships with like-minded photographers, several of whom I've kept in touch with. I left Bozeman with a notebook full of ideas, a bolstered portfolio of beautiful images, renewed confidence in my photography, and a heart full of excitement to continue to learn and grow. I highly recommend this photography workshop to anyone who is looking to learn and grow as a photographer. -Marci Johnson, Marci Jo Photography