It's true that sometimes you have to wander off a little to find your path, or at least that's my story and I'm sticking to it!  Each year I say I'm going to fly when it's time for our Dryhead Ranch Retreat but then I find someone that's willing to venture down the road with me and I choose to drive. This time it was Vanessa with Faithway Cattle right here in Georgia. Vanessa signed up for our Montana Retreat and we both decided a road trip was in the making.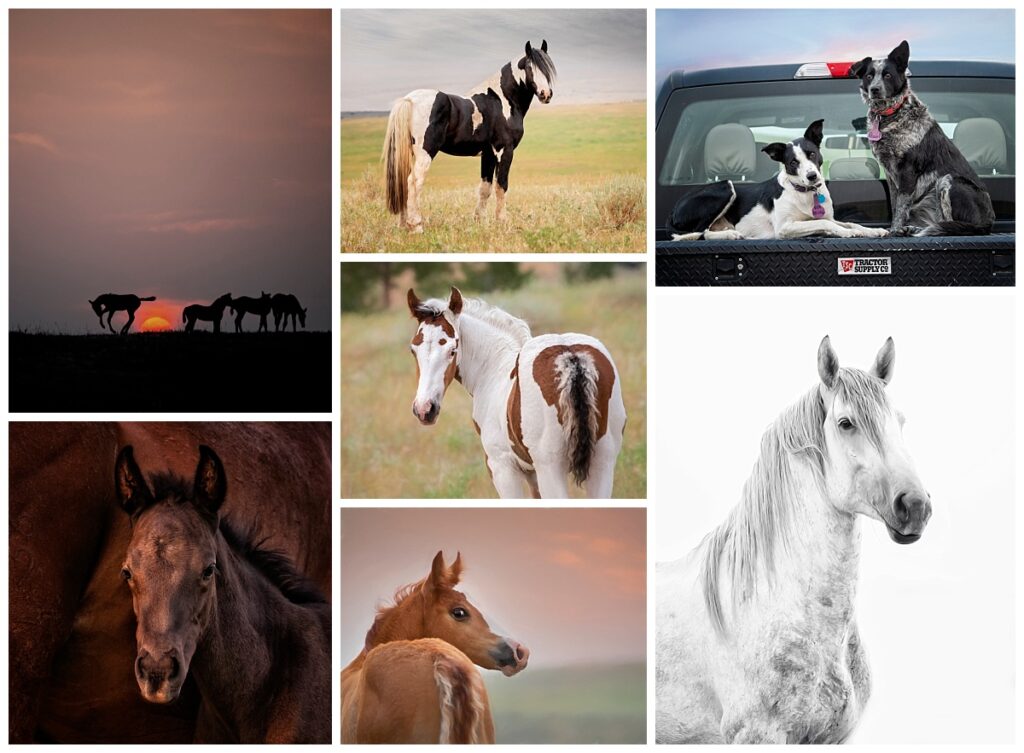 Lazy Six Nine Ranch Horses and Working Dogs
Our first stop was to visit my friend Cheyenne (The Native Cowgirl) in Reed Point, Montana. Cheyenne and her husband, Shane, along with their son, Stone are cattle ranchers and breeders of Draft cross horses. It was a girls trip as the men were in South Dakota with the cattle but our time went fast as we talked, laughed and enjoyed Cheyenne's wonderful hospitality. They started a half-draft breeding program in 2018, crossing Percheron and Gypsy Vanner Stallions on Quarter Horse mares they found the foals to be very versatile and highly suitable for ranch work. If you think you might like to own one check out the Lazy Six Nine Ranch! Smoke from the fires in the area kept us from seeing those epic sunrise and sunsets that I see Cheyenne post but it did help create some nice, soft light.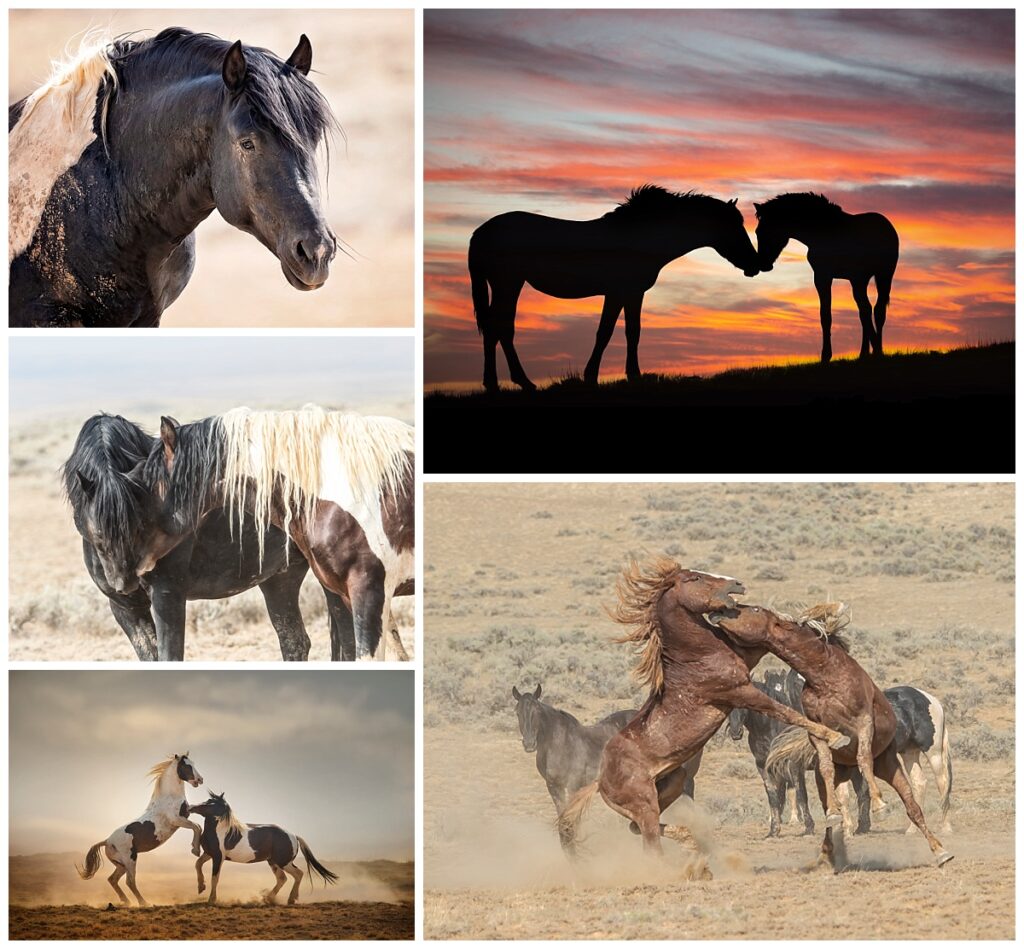 McCullough Peaks Wild Horses
From the Lazy Six Nine Ranch we headed to Cody, Wyoming to meet up with Wild Horse Photographer Susan Goudge and her husband Dave. They would be our guides with their capable off road 4-wheel drive Jeep for a couple of days as we ventured in to see the beautiful horses of the McCullough Peaks Wild Horse Herd Management Area. I truly think this is one of the most diverse herds I've seen in terms of coat colors. The temps were extreme but we were able to find the horses and  capture a little action along the way.
After two great days with the wild ones we arrived at our final destination, the Dryhead Ranch. Located in the Pryor Mountains on the Crowe Indian Reservation in Montana this is a four generation working cattle, horse and guest ranch. We were excited to get to the ranch and welcome the rest of our group.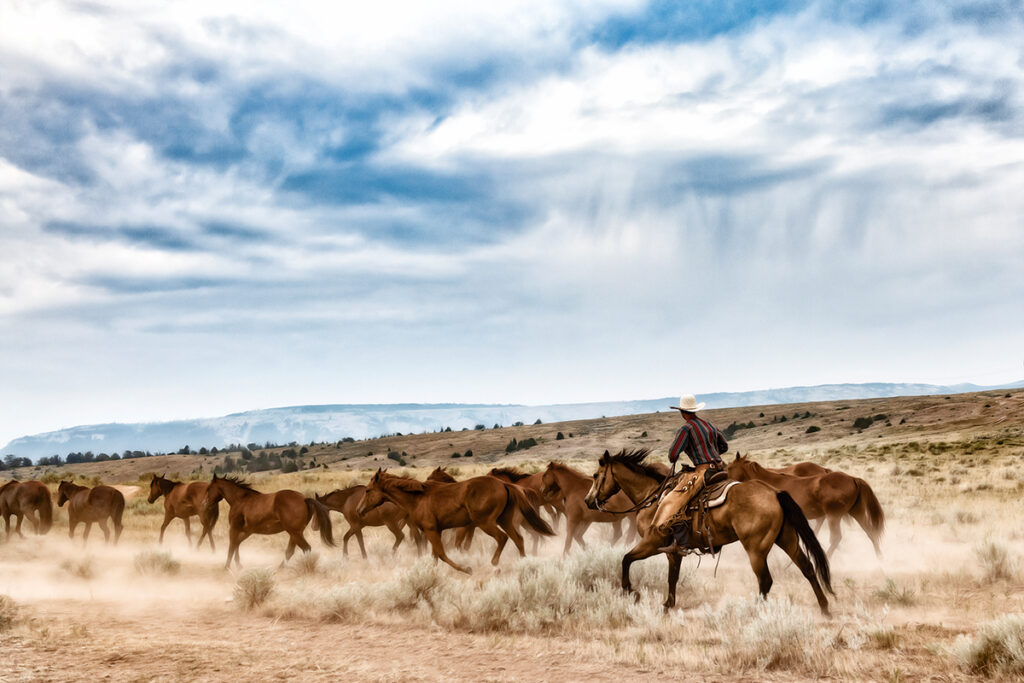 This is a real working ranch with lots going on this time of year, moving and doctoring cattle, branding, wrangling the cavvy in and out each day, checking herds and colt starting. It's a family affair for Jennifer, her kids and grandkids. Kristen and Braden are newly married and expecting a little girl later this year. Jessie and Jake have four kids that keep us entertained while at the ranch, from the youngest, James, then Howdy, Cassidy and Maddy, they all help out with the chores.
That's James and Howdy standing tall in the saddle!Cassidy and Buckshot top left and beautiful Maddie bottom right. That pretty little girl sitting on Lara's lap is Louanna!
Jake is the top hand but don't let him fool you he loves to pose for the camera!That's Jessie bottom center, now there's one Cowgirl you don't want to tangle with. She can rope, wrangle, and crack a bull whip like nobody else!Dryhead has some of the prettiest ranch horse prospects I've seen, if you're looking for a great one you need to give them a call!We were blessed with some pretty light despite the fires in the area, silhouettes are always a crowd favorite!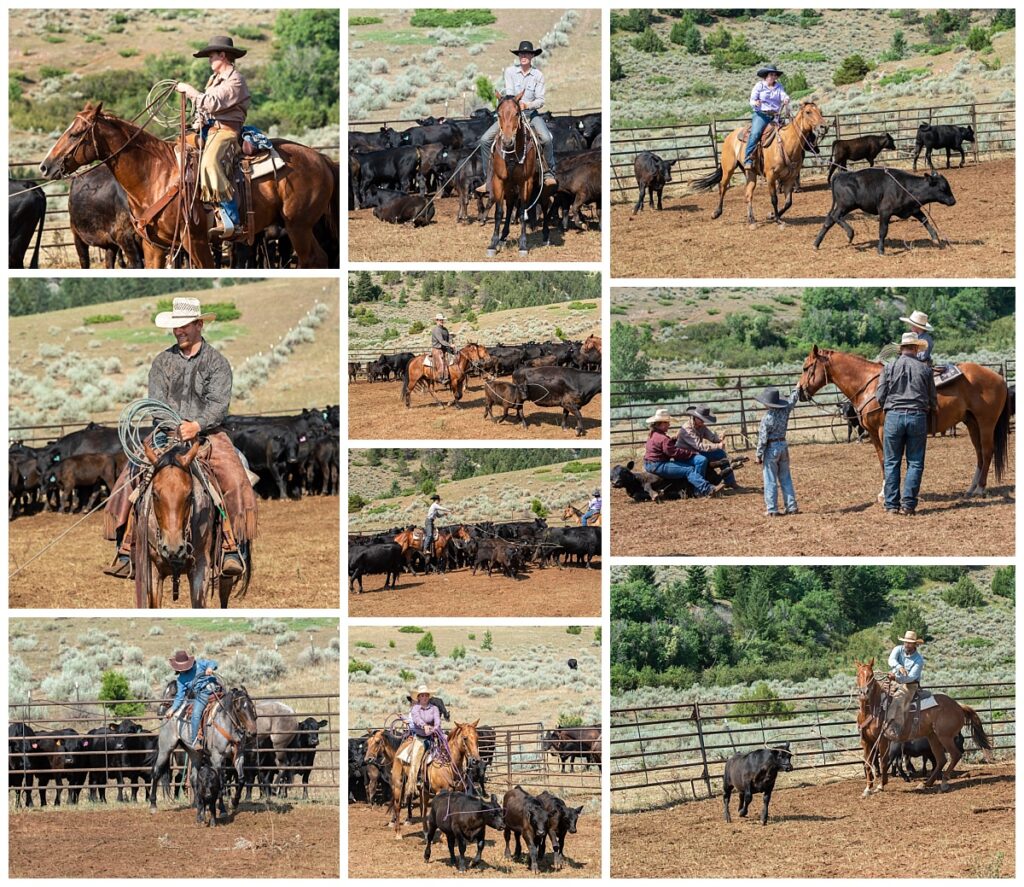 Our photographers were excited to get to see and photograph a branding, Branding is the main method of permanent identification and proof of ownership for livestock.
This is particularly important in the western United States, where cattle from multiple ranches are run together or in bordering pastures.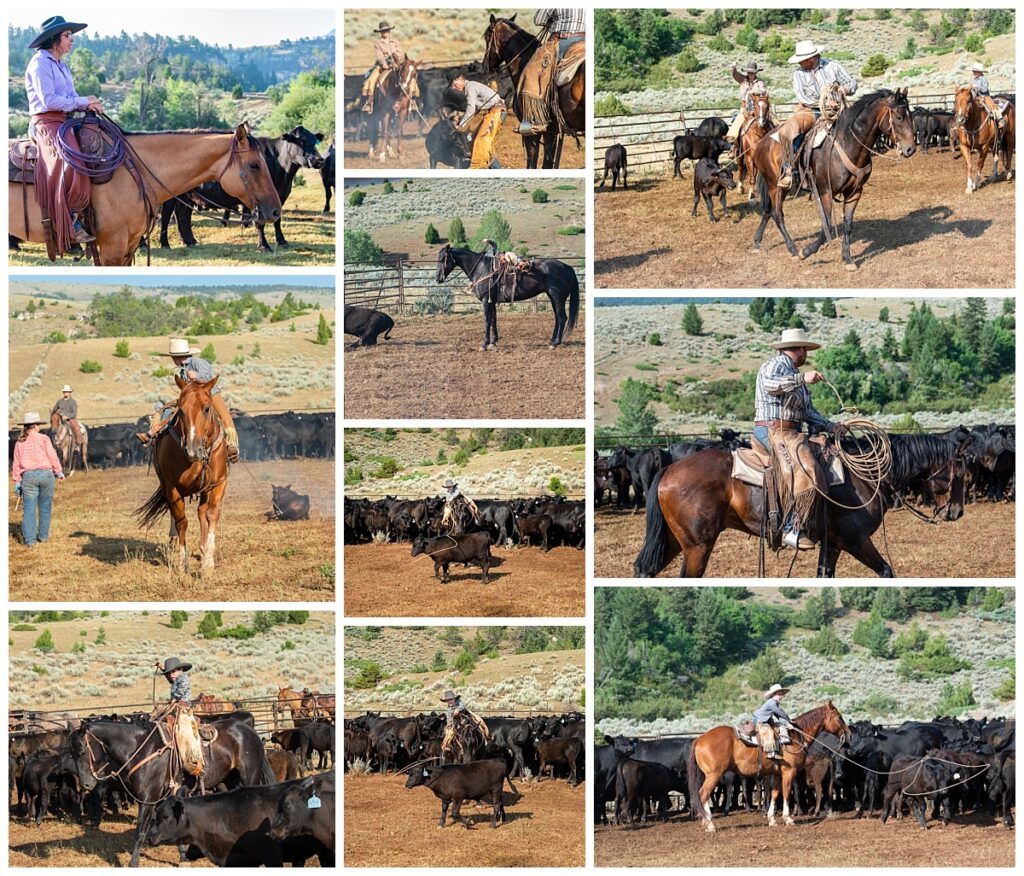 We even got to do a little fashion photography thanks to Sierra!

And what's more American than the flag, horses, dogs and Cowgirls!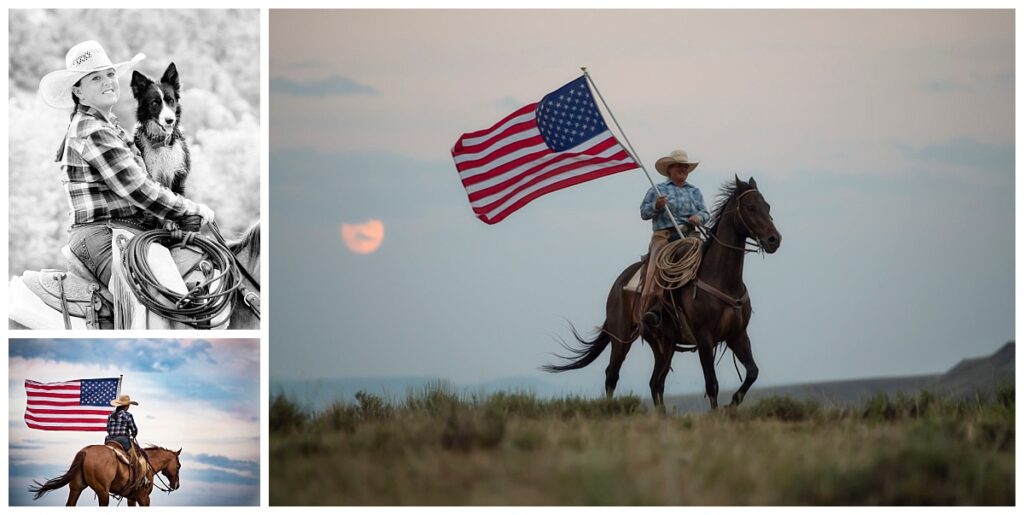 It was a fantastic week at the Dryhead, the stunning scenery, beautiful horses, and hospitality of the family and support team was amazing.
Huge thanks to Jennifer, Kristen, Braden, Jake, Jessie, Maddy, Cassidy, Howdy, James, Matthew, Lara, Reece, and Trista!
My co-leader, Kim Beer and I would also like to thank the wonderful group of photographers that joined us:
Christy, Jacqueline and Sierra, Cara, Mary Ellen, Susan, Trudy and Vanessa.
On our way home we made a stop in Wall, South Dakota so we could head in to the Badlands for sunrise. The sun was rising over the grasslands and the moon was setting over the rock formations. You know if I fly I'm thinking I won't be able to see all this beauty on a cross country road trip. Now that would be a shame. Yes, I'm already looking forward to next year!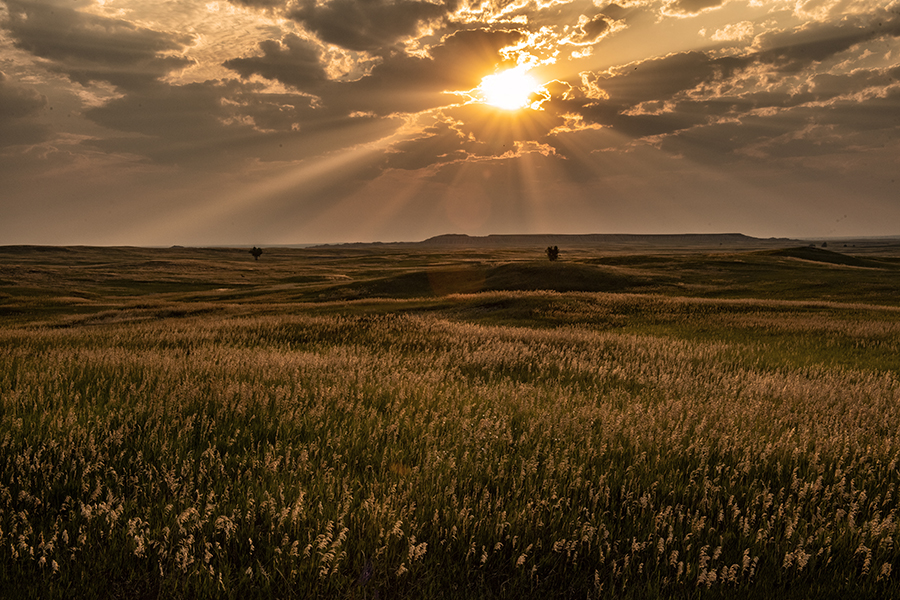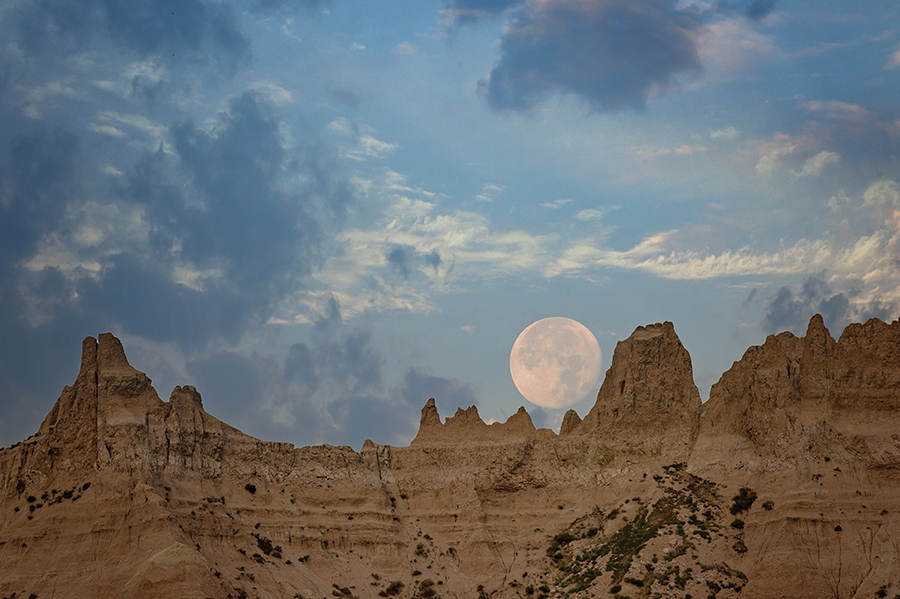 𝕀𝙛 𝙮𝙤𝙪 𝙬𝙖𝙣𝙩 𝙩𝙤 𝙠𝙣𝙤𝙬 𝙬𝙝𝙚𝙧𝙚 𝙮𝙤𝙪𝙧 𝙝𝙚𝙖𝙧𝙩 𝙞𝙨.. 𝕃𝙤𝙤𝙠 𝙬𝙝𝙚𝙧𝙚 𝙮𝙤𝙪𝙧 𝙢𝙞𝙣𝙙 𝙜𝙤𝙚𝙨 𝙬𝙝𝙚𝙣 𝙞𝙩 𝙬𝙖𝙣𝙙𝙚𝙧𝙨.