Hello…how you doing?!?!
It's been too long, way too long since my last blog post…..there is so much to tell you! I'm going to start this long overdue post with some how to information on panning. You may ask what is panning AND why would I want to do that?!?!
Panning is the horizontal movement of the camera as it scans a moving subject, proper panning implies motion.  No one can guarantee perfect pans, but with practice, patience and an understanding of the basics, you can create some beautiful, artistic images.  Panning is not about movement, it is movement. It's the following of a moving subject along its plane of motion. Most often it's a horizontal plane with the subject a horse, runner, bicyclist or a race car. But it can also be along a vertical plane; such as panning with a diver or surfer as they glide into the water.
It sounds easy right? Set your shutter speed to freeze motion or blur it, follow the action and click the shutter. Be sure to remember that it's unlikely that your main subject will ever be completely sharp and in focus. This technique is about getting a relatively sharp subject in comparison to it's background. Some blurring of your main subject will add to the feeling of motion in the shot.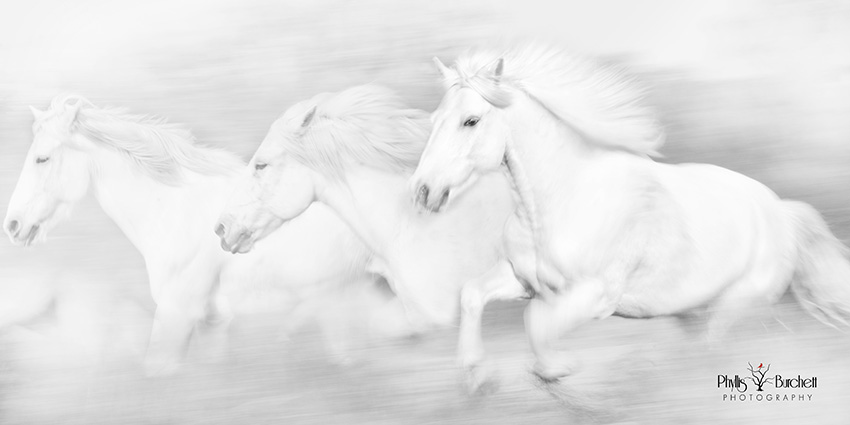 White Horses of the Camargue/F22 Shutter Speed 1/25 ISO 100
Select a slightly slower shutter speed than you normally would. Start with 1/30 second and then play around with different settings. You may want to use Shutter Priority.
Position yourself where there are no obstructions between you and the subject. Also, where you have a clean background if possible.
As the subject approaches track it smoothly with your camera, if it's a horse my focus point is on the eye. For best results you will want to set yourself up so that you're parallel to the path of your object.
Once you've released the shutter continue to pan with the subject, even after you've heard the shot is complete. This follow through will ensure the motion blur is smooth from start to finish in your image.
Panning is most successful on a camera and lens with fast focusing.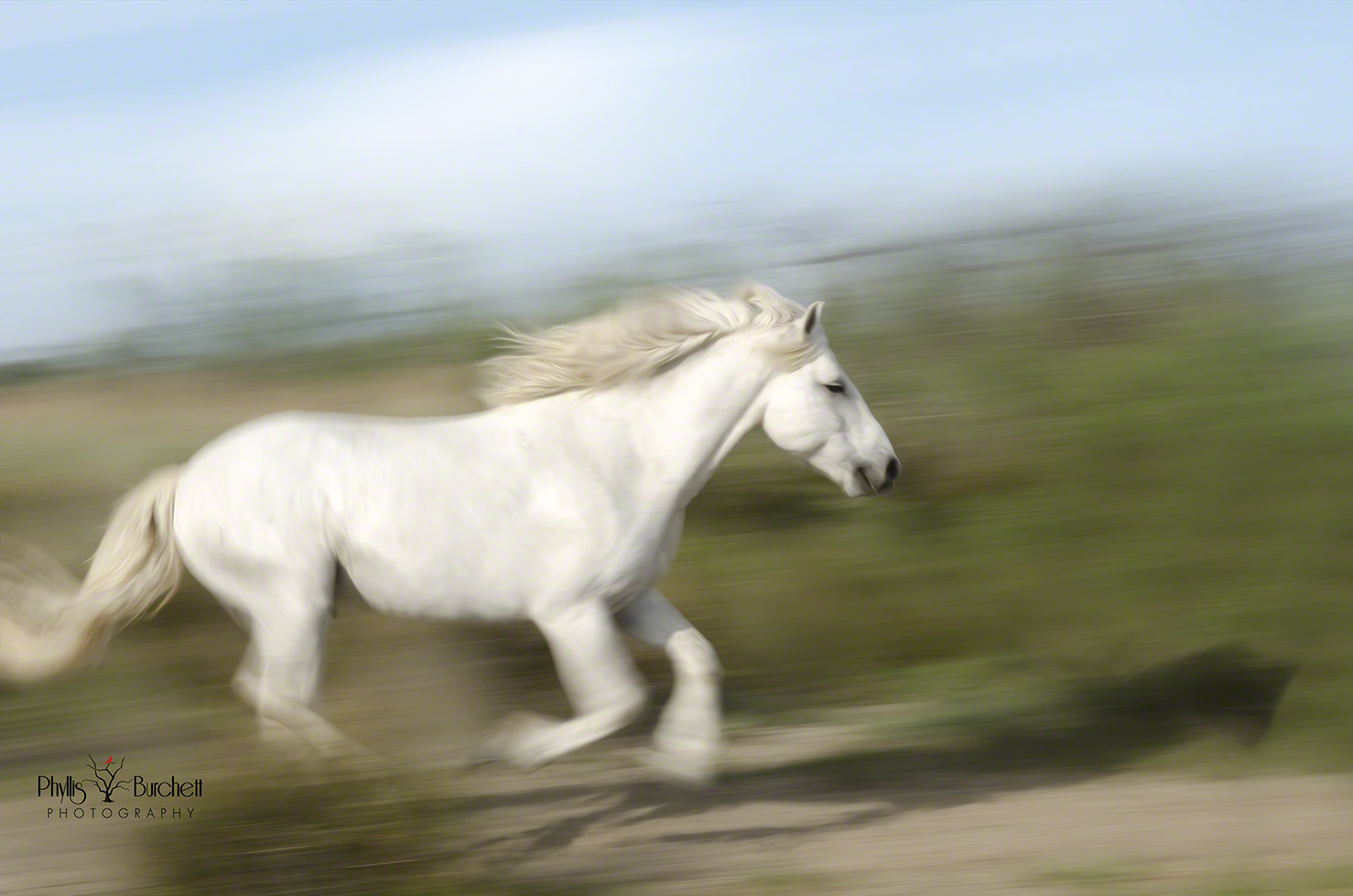 Love the Shadow on this one! F22 Shutter Speed 1/25 ISO 100
These images were all taken in broad daylight so to slow my shutter speed I needed to use a lower ISO and small aperture.  If you're going to try panning for the first time have fun with it and if at first you don't succeed try, try again!  It can be a lot of fun but can also be quite frustrating (for me as well). Don't just use this same technique all day – instead also shoot some shots at fast shutter speeds. This way you'll end up with a variety of shots.  Hope you get a chance to try some panning, if so…..I'd love to see what you get, send me an email at [email protected] with yours!
---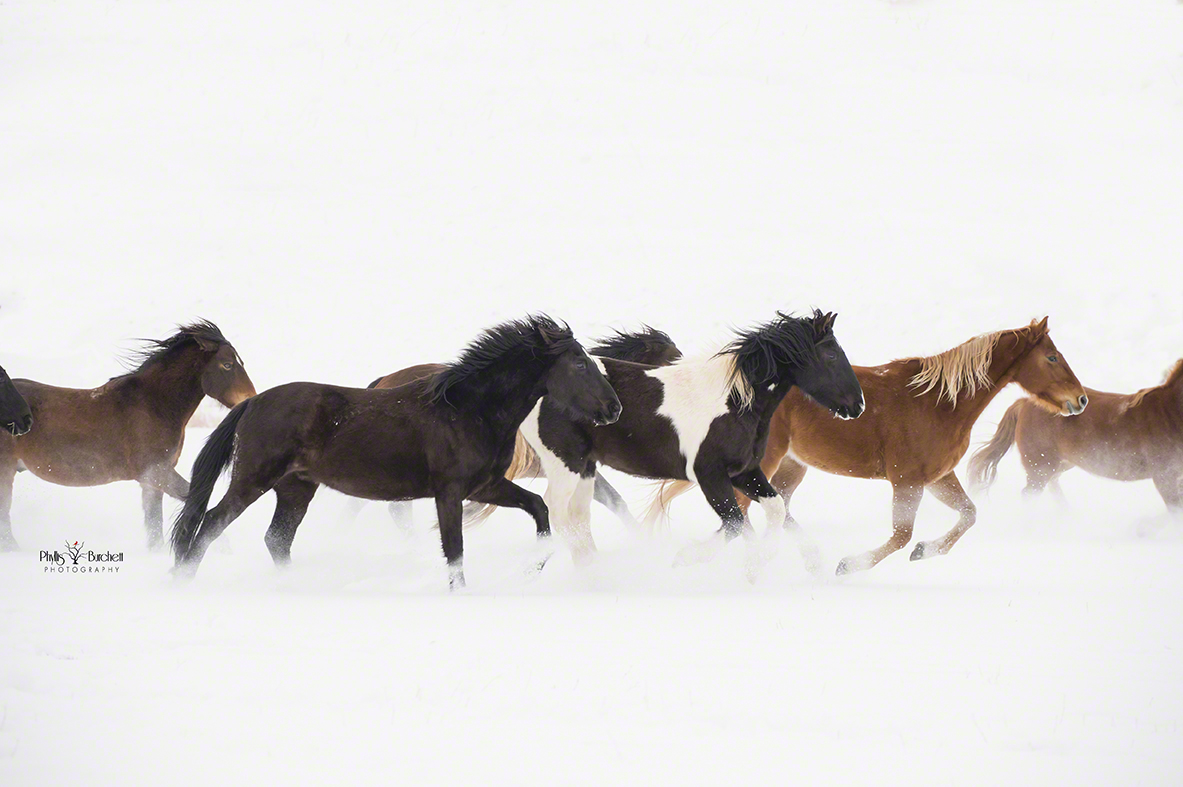 Winter Horse Photography Tour
Dates:  Friday, January 29th – Thursday, February 4th 2016
Red Reflet Ranch, Ten Sleep, Wyoming
 Judi Hagen and I would love to have you join us in the Big Horn Mountains of Wyoming for horses and Cowboys in the snow! 
It's a new location, never photographed by other groups so your images will be the unique!
For more info: https://phyllisburchettphoto.net/winter-horse-photography-tour/
---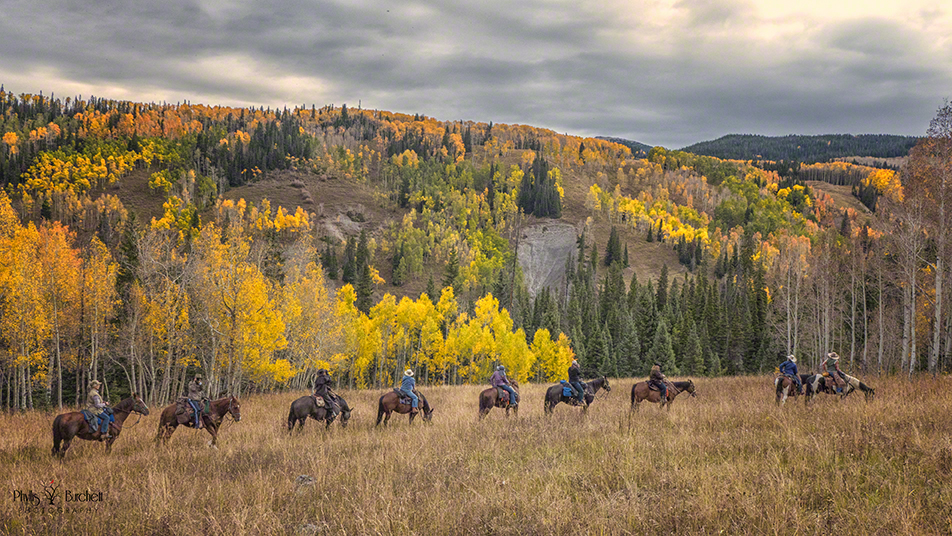 I'm so excited to say that we just completed my first ever Colorado Ladies Ride/Photo Retreat in the beautiful Flat Top Wilderness of Colorado, where we stayed at the wonderful Wildskies Cabin owned by Lisa and Chip Bennett. Shana Devins of Someday Outfitters provided us with our fabulous backcountry guide, Diann Haynes and horses for the week. Our dinners were catered by Charlie and Christine Epp, who kept us well fed and very happy. A big thanks to Elise, Trudy, Alisa, Joy, Shannon, Wendy, Kelly and Dene for joining me this year! Stay tuned for more tours like this in 2016!!! 
---
2016 Dates for Iceland have been announced: 
June 24-30, 2016 Iceland Equine Photo Tour
For more info: 2016 Iceland Equine Photo Tour
AND for those who have asked….YES, there will be a Spring Workshop at Greer Farm in Hampton, Georgia. Dates to be announced later!
If you have any questions about my tours/workshop OR panning please don't hesitate to contact me at phylli[email protected]. Thanks and have a great day! Phyllis