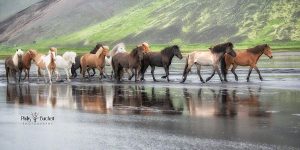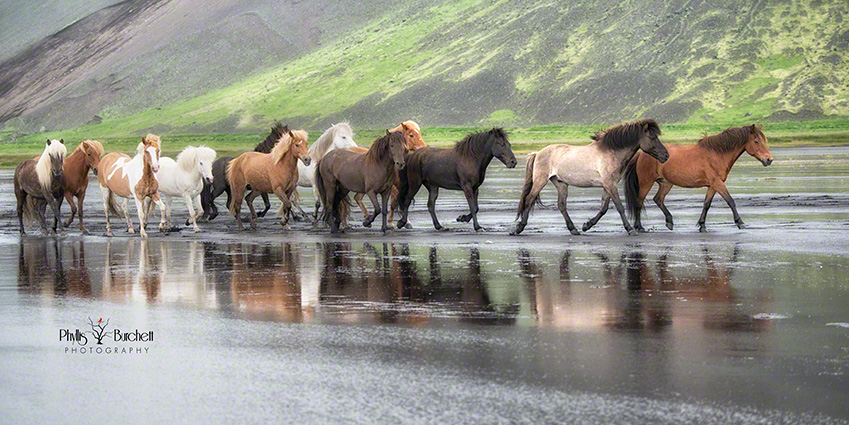 This year was my second trip to Iceland where we stayed at a horse farm in the south to photograph the stunning scenery and it's famous inhabitants, the Icelandic Horse. Staying on the farm provides both a taste of traditional culture and the chance to experience the Icelandic way of life.
The Icelandic Horse has been pure bred in Iceland for 1000 years, no imports are allowed into the country. The horses endured strong winds, rain, snow, hurricanes, minimal feed, volcanic eruptions and earthquakes to survive. These hardships have created a hardy, intelligent, gaited and friendly horse that we have come to love.
Iceland experiences a rather mild climate for a country on such a northern latitude, yet weather patterns are known to be volatile, conditions changing frequently. During the summer months, Iceland never reaches full darkness, and in northern areas a Midnight Sun can be seen. Iceland's stunning landscape provides areas of geothermal activity, mountains, waterfalls and glaciers.
In June there is an eruption of blues and purples and the landscape is alive with color. The Lupine plant was introduced to fight soil erosion. It is not native to Iceland but grows very well there, it's highly toxic to horses but they must know this as they don't seem to eat it.
We arrive during foaling and breeding season and the yellow flowers carpet the landscape. Of course when in Iceland don't forget the sheep….these cute little guys were being bottle fed and thought perhaps I was bringing the milk wagon!
The foals are adorable….so curious and friendly! We can look out our window and see babies playing on the hillside. Each morning before breakfast we are in the fields right outside our door to spend time with these wonderful inquisitive little guys.
As if the iconic Icelandic scenery isn't enough, the farm owners and staff go out of their way to make our stay memorable in every way. The hospitality, accommodations, the food and of course the horses will keep me coming back every year! Thanks to Mummi, Jóhanna and everyone at Skálakot for taking such wonderful care of us, you can visit the website for the farm here at skalakot.com. I almost forgot to mention that they offer horseback riding at the farm as well….the best way to see the landscape!
Our focus was the Icelandic Horse….it was after all an Equine Tour but there is so much more to see and do while in Iceland. The birding is fabulous, I so want to go back when I can dedicate more time to photographing the bird life in Iceland. In June you have almost 24 hours of daylight, the light is stunning so you never want to sleep. In the winter from September to March you will be on Aurora watch.
The weather is as diverse as the landscape…..waterfalls, glaciers, lava fields, lava cliffs, black sand beaches, hot springs and geothermal areas with bubbling mud. The terrain will include rocky lava fields, jeep tracks, single track trails, dust roads, grass fields, soft sand, wet sand, rolling hills, hard lava cliffs as well as some river crossings. Prepare for everything if you go, I promise Iceland will not disappoint you.
The Ice Beach at Jökulsárlón
Big thanks to Mike Porter, Joan Davis and Heather Swan for joining me this year. If you'd like to see more of their work please visit and flatlandsfoto.com and libertyshots.com. For more info on my 2015 tour to Iceland please send me a message! More images from Iceland are on my website at phyllisburchettphoto.net/iceland.