Have you ever wondered how to travel with your photography gear?
Here are some of my best photographer travel tips!
The expensive stuff always goes in the carry-on!
Never check your camera gear or computers! If you are traveling to do a job and your checked case with your cameras gets lost — you are out of luck. Check with your specific airline to find out their carry-on requirements. Some bags described as "TSA approved" may actually exceed the measurements for your airline or plane.
Consider the required weight as well. Some airlines may even ask you to weigh your carry-on bag. I even suggest you stash a small packable backpack or tote bag into your carry-on just in case the gate agent asks you to check it. This way, if needed you can pull out the most important items and carry them on with the tote if you have a bag that is too large or too heavy to carry on.
Sometimes your journey through the airport can be the worst part of the trip. Consider your own comfort when choosing a carry-on bag. You'll be traveling to and from the airport with a lot of waiting and walking in between. Your bag is heavy and it needs to stay with you at all times, we all know that making a visit to the restroom can be particularly challenging!
Your number one goal in packing should be the safety of your photography gear.
Make sure every lens and camera body has the caps on and store them inside your padded camera bag. For air travel, I always take the lenses off my cameras. It's more space-efficient to pack cameras and lens separately and it limits the potential for damage to your lens mount.
Start by packing your most expensive and necessary items in your carry-on bag. Even if you plan to check some gear, make sure you're carrying on as much as you possibly can. I always carry two camera bodies and all of the lenses I'll need to do my job. Anything relatively inexpensive (like flashes, tripods, extra chargers), goes in my checked bag in order to save weight in my carry-on. I know some photographers that will even Fed Ex extra gear to a job.
TSA regulations require all lithium metal/ion spare batteries to be stored with the terminals covered and carried on to the airplane (you can read more about TSA rules on batteries here).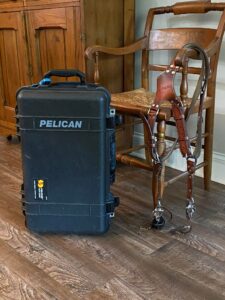 If you have chosen to check any of your equipment, there are several options to protect your gear during the journey from check-in to baggage claim. Be sure to select a bag that's meant specifically for camera gear, I highly recommend Pelican Cases. I have a small Pelican Case that I use as a carry-on when I'm flying smaller commuter planes that have limited space in the overhead bins. Choose a bag with a TSA-approved locking system and make a detailed list of everything inside.
Pro Tip: Take a photograph of your packed photography gear.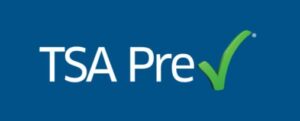 Sign up for TSA Pre-check.
TSA Pre✓ gets you expedited security screening benefits for flights departing from U.S. Airports. If you are traveling abroad, Global Entry provides the TSA Pre✓ benefit plus expedited US customs screening when entering the United States. TSA Pre✓ is good for five years, costs just $85 and you can speed through security without the need to remove your shoes, laptops, liquids, belts or light jackets.
As you go through security and anytime at the airport always keep an eye on your equipment. If your bag is pulled aside for inspection don't have an attitude, the TSA agents are just doing their job. If you pack your bag properly, they will generally only take a peek and do an explosives swab on the bag.
Book your flight with an Airline Credit Card.
Most of the major airlines have a credit card program that comes with travel perks. I fly Delta 99% of the time; as a Silver Medallion member I get two bags checked free and priority boarding. I always try and get to the front when my zone is called so that I make sure I have a spot in the overhead bin for my gear. If you travel frequently enough, don't forget to sign up for the frequent flyer mileage. Check out this post about the best Airline Credit Cards.
If you find yourself in a position where there is no room in the overheads, don't be afraid to approach the gate agent with your concerns. Explain that you're traveling for work, that your bag is filled with gear for your job and that it can't leave your sight. Tell them you're not comfortable checking your bag and ask if there is any way to make sure your bag gets into an overhead bin near your seat. Usually, the gate agent will accommodate you. If not, you can always try talking to a crew member on board.
Insure Your Photography Equipment
Whether you're traveling across town or around the world, always make sure your photography equipment is insured. If you haven't already, consider joining PPA — Professional Photographers of America. The annual membership includes $15,000 of equipment insurance. Definitely worth the cost of membership and PPA has lots of other perks for members.
Use Travel Apps
The TripIt app will keep your flight, hotel and car reservations organized so you can have access to everything right on your phone at any time. I store my boarding pass in my Apple Wallet. I also keep the airline apps and hotel apps on my phone to allow easy communication and check-in along the way. Uber and Lyft apps for transportation and of course Apple or Google Maps for those times you are renting a car. I recommend the Waze app which tells you about traffic, construction, police and accidents. I even have an app called MileIQ that automatically tracks your miles and gives me a summary and printout at the end of the year for tax purposes.
Label and tag your bags for easy identification.
Brightly colored tags for your bags and/or some sort of easily identified marking will make it simpler for you to find your bag on the carousel at baggage claim. You may even want to choose any other color besides black for your checked bags.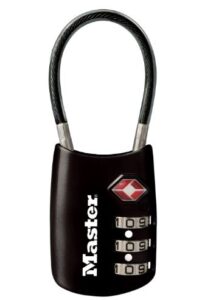 Use TSA locks.
Lock your checked luggage but be sure to use approved TSA locks so that the agents can access the bag if it's flagged for a security check.
Use a portable luggage scale.
You will want to use a portable luggage scale to gauge how heavy your carry-on and checked bags are once fully packed.
I have a very old Moose Peterson backpack I load into an even older Lowepro rolling bag that I've gutted. That way I can wheel my gear through the airport, then take the backpack out to use. Since I already do the same thing every time, I already know I'm not over the weight limit. But, I still weigh it at home to be sure!